Get Out of Back Pain for Good
Back pain! Ugh! I'm glad you landed here because we have solutions. We've helped hundreds of people find relief regardless of their situation. Whether your back pain is acute or chronic, you're in the right place.
I'm Dot Spaet, Back Pain Specialist, and I can help you get rid of back pain for good. Often people come to me after seeing numerous medical or health specialists and finally find relief using the Spaet Method.
More than 90% of back pain is caused by tight and injured muscles that create imbalances in the body's skeletal system.
I provide personalized moves that address these imbalances so that you can become and stay pain-free. Every person's body and muscular issues are unique, so you receive a program specifically personalized to your needs. You'll learn exactly what you need to do to take your own pain away as a Get Out of Back Pain client.
Although I specialize in working with women in their 50s and 60s, I work with people of all ages. We also see people with neck, shoulder, knee, and hip pain. I am proud of my 91% success rate helping my clients get rid of their back pain.
Are you ready to get rid of back pain?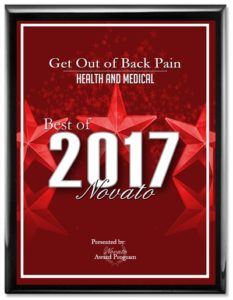 Contact Dot for your complimentary
Get Out of Pain phone consultation HERE
We are proud to announce that Get Out of Back Pain was awarded Best of 2017 Health & Medical, Novato Award Program
Dot is incredible. Working with her resulted in my canceling a major back operation. I had been in tremendous pain and taking major pain medicine for years. The exercise program she devised is working and the narcotic pain meds have given way to Advil. She takes the time to customize the program so you work correctly and effectively. Dot has constructed a program that works!!!! I highly, highly recommend her if you want to eliminate your pain.
I came as an experiment-I was skeptical. I thought I already knew all the stretches for sciatica and they weren't working. Your class is so creative, exercises are really outside the box! You're very intuitive and really custom-fit for each person's issues. Thank you!
Dot's knowledge and expertise is spot on. I was hobbling on crutches, unable to sit, stand or walk,and from my first session she was able to help me control and reduce sciatica-related pain, and eventually help me to relieve the pain entirely.
Unlike other practitioners who have a set routine and practice for one and all, Dot assesses each individual and makes recommendations based on that individual's anatomy, movements, specific symptoms and location of pain. She was intently observant of how I moved, what actions made symptoms better or worse and what stretches and positions that she recommended that were more or less effective. She changed the routines based on effectiveness, progress and my physiological readiness for the next steps.
I am a Registered Nurse, so her knowledge and understanding of anatomy and physiology was very impressive to me. She made wonderful notes based on what she taught me each session, so that I could refer to them, and not rely on a memory compromised by pain and medications.
Helping those in pain seems to be a mission for her! I have my life back due to Dot Spaet! I am ever so grateful to her.