Does your back hurt?
Would you like to be out of pain?
Would you prefer a group approach for learning back pain and back care exercises and stretches? Dot Spaet's 5 Weeks to a Pain-Free Back Program includes classes with personalized attention in a small group setting. Classes are limited to ten individuals and include an initial on-to-one session with Dot.
5 Weeks to a Pain-Free Back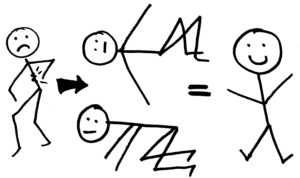 This program is for you if:
you wake up stiff and sore in the morning
bending over is either impossible or hurts your back or neck
you spend any time during the year with your back on ice
Group Program:
5 small-group Back Pain Classes, 1 1/2 hours each
1 Private, 1 1/2 hour Back Care session with Dot
"Get Out of Back Pain for Good!" e-manual
Bonus Audio Program *
9 hours and priceless information

To learn more about our Group Program and discover if this program is a good fit for you, contact Dot directly at
415-892-6605 or HERE
* Almost 5 hours packed with info about nutrition and how it affects inflammation and pain (tele-call series)
You will learn how to:
Decrease your back and neck pain, on your own
Bend in a way that does not hurt your back or neck
Stop doing what is re-injuring your back
Sit comfortably at your computer for hours
Identify the 3 key elements you need to know in order to make your pain go away permanently
Get an action plan for your unique situation
Empower yourself-facilitate your own healing!
Program Dates:  Next Program To Be Advised
Location:
Convenient Marin County Location
We run these programs throughout the year; contact Dot to see how quickly you can get to pain free. You will happy to join the happy 91% that is out of pain thanks to the innovative Spaet Method.
If you have participated in a Back Program with us before, come back for a refresher – even one session can do wonders! Contact Dot for current location and so that we know you are coming.
If you've been to a Free Back Workshop you are already familiar with a few moves – come learn more!
If you are new to this work, you may want to come to our free 2 hour workshop, Top 3 Keys to End Your Back Pain, or sign up for this amazing program now.
100% money-back guarantee:
If, after working the whole program, you feel it was not worth your time or investment, we will refund your money.
Call Dot at 415 892-6605 for your complimentary
Get Out of Pain phone consultation
Or email
Your classes have provided me with 'go-to' moves that I can use, and the awareness of when to use them prior to the stiffness becoming serious enough to require meds. Honestly, I think the class was very well balanced, and provided a nice place to work on what worked for me.
You have a specialty at providing both individual attention but explaining it in a way that others can learn/internalize from. The group setting is great for experiencing techniques outside of my immediate needs. I appreciate your bringing a 'tool box' of accessories that I can learn how to properly use. I have not been to any other workshop where I'm not expected to already know.
This program was so "advanced" (good) that I can't even conceive of anything better at this time!
Dot definitely knows her stuff.
The best result is that I have a "map" of where to go, what to do to get better.
I really appreciate the individual attention given. I felt Dot listened and saw my problems and addressed them very specifically.
I had some big eye-openers during Dot's class Get Out of Back Pain. I had been doing the same exercises consistently for many years, and I didn't realize that they were hurting me the next day. With just some slight adjustments suggested by Dot, those painful days were suddenly GONE! But no two bodies are the same and no two lives are the same. The best part about the class is that I walked away with a custom set of stretches, exercises and habit changes that helped me to reduce pain. Dot is great at identifying what my particular problems are and came up with smart custom solutions! With this workshop, you learn what you can do in your life to make your back better. There are just a few small things than you can do that make a big difference! They are simple and don't take a lot of time. It's a complete workshop: you learn moves and stretches, and when practiced, they balance out the body and diminish the pain. I am so glad I took it and it was worth every penny!