Marin Snapshot: Novato couple's symbiotic work relationship creates happy clients
CLASSICAL PIANO music can be heard throughout the house as Dot Spaet stretches out her clients' muscles in an effort to relieve their back pain. Across the hall, her partner of 10 years, John Boyajy, instructs his students in the art of piano playing.
Spaet, 59, and Boyajy, 69, moved to their Novato residence in 2007 and decided they no longer wanted to rent studio space for their businesses. Instead, they set up shop at home. Spaet, a former engineer, is a back pain specialist, and Boyajy is a Juilliard School-trained concert pianist and music teacher. (more)
Get Out of Back Pain wins 2017 Best of Novato award

Marin IJ: Milestones: Good news about Marin people…(more)
Dot Spaet of Get Out of Back Pain Receives 2016 Best of Novato Award
NOVATO June 9, 2016 – Dot Spaet of Get Out of Back Pain has been selected for the 2016 Best of Novato Award in the Yoga category by the Novato Award Program.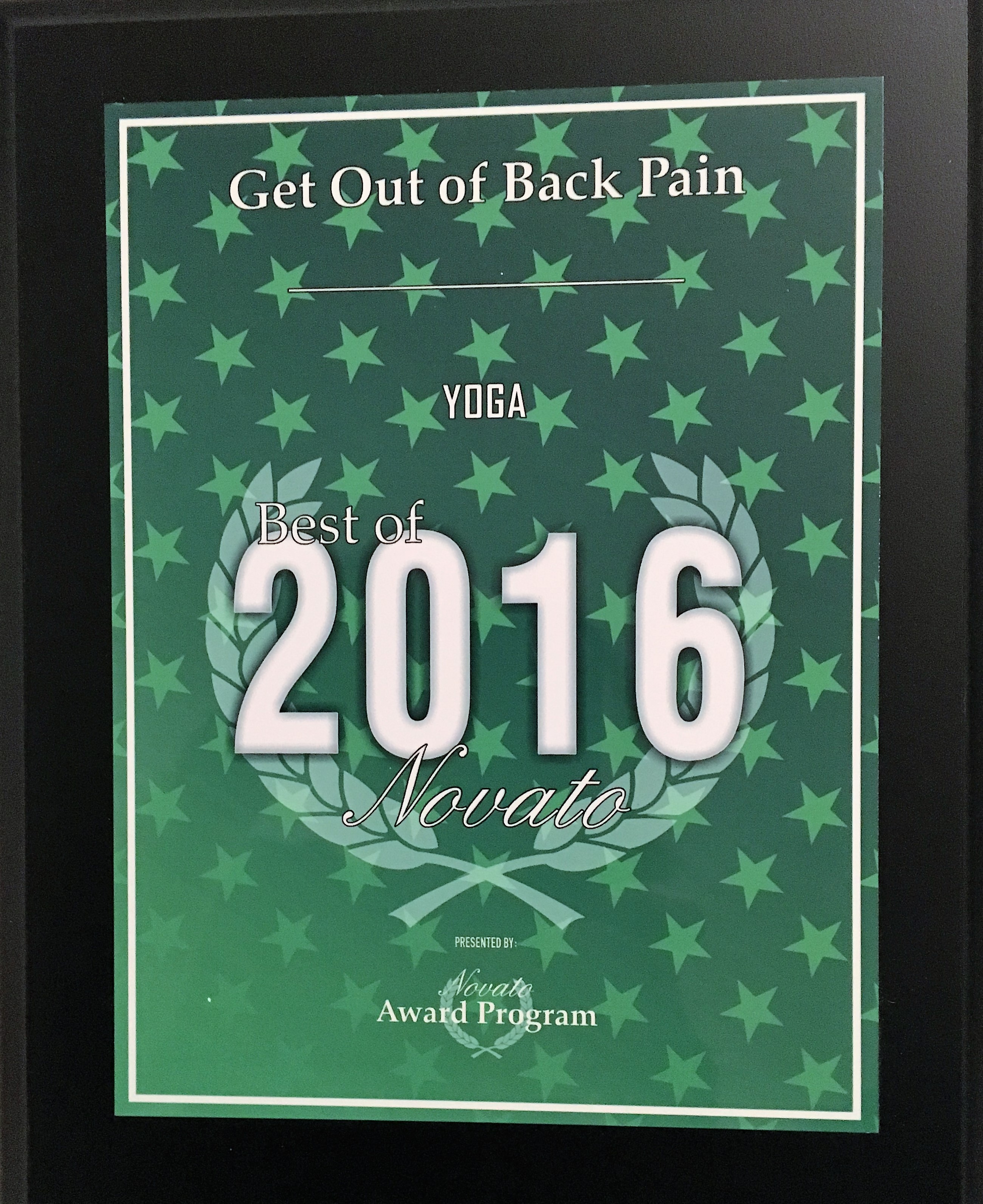 Dot's Yoga is unique. She specializes in injury rehabilitation and holds a long list of certifications including: Yoga, Pilates, CORE, Strength Training for Seniors, Flexibility, Stretching, Functional Muscle Training, Personal Training.
Her focus is on the individual even in a class setting. Many of her students have been with her for years. Dot's focus is on loosening hips, back, neck and shoulders so students feel younger, more vibrant and alive, and stay injury and pain-free.
Dot's specialty is helping people get rid of back pain and her Yoga class is one place people can come weekly to study with her. Class meets on Mondays from 4:30-5:45 p.m. at WnY Warehouse, 64 Digital Drive, Bel Marin Keys, Novato.
Yoga with Dot is an eclectic blend geared toward what the students need for the day and draws from her Iyengar, Bikram, and Hatha training and other experience.
About the Novato Award Program, from them:
"The Novato Award Program was established to recognize the best of local businesses in our community. Our organization works exclusively with local business owners, trade groups, professional associations and other business advertising and marketing groups. Our mission is to recognize the small business community's contributions to the U.S. economy."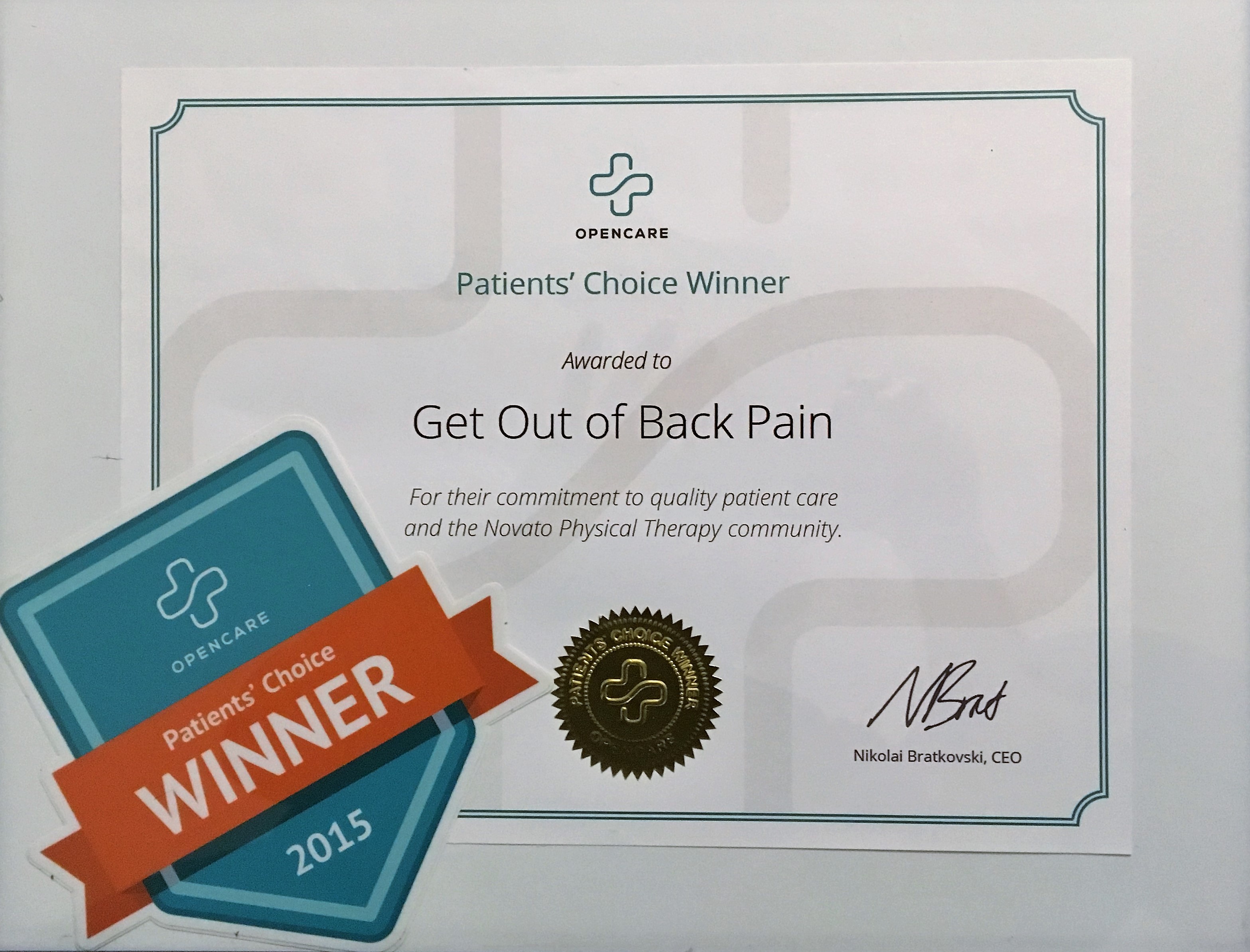 We are proud to announce that Dot Spaet of Get Out of Back Pain was awarded the
2015 Physical Therapy Novato Patients' Choice Award.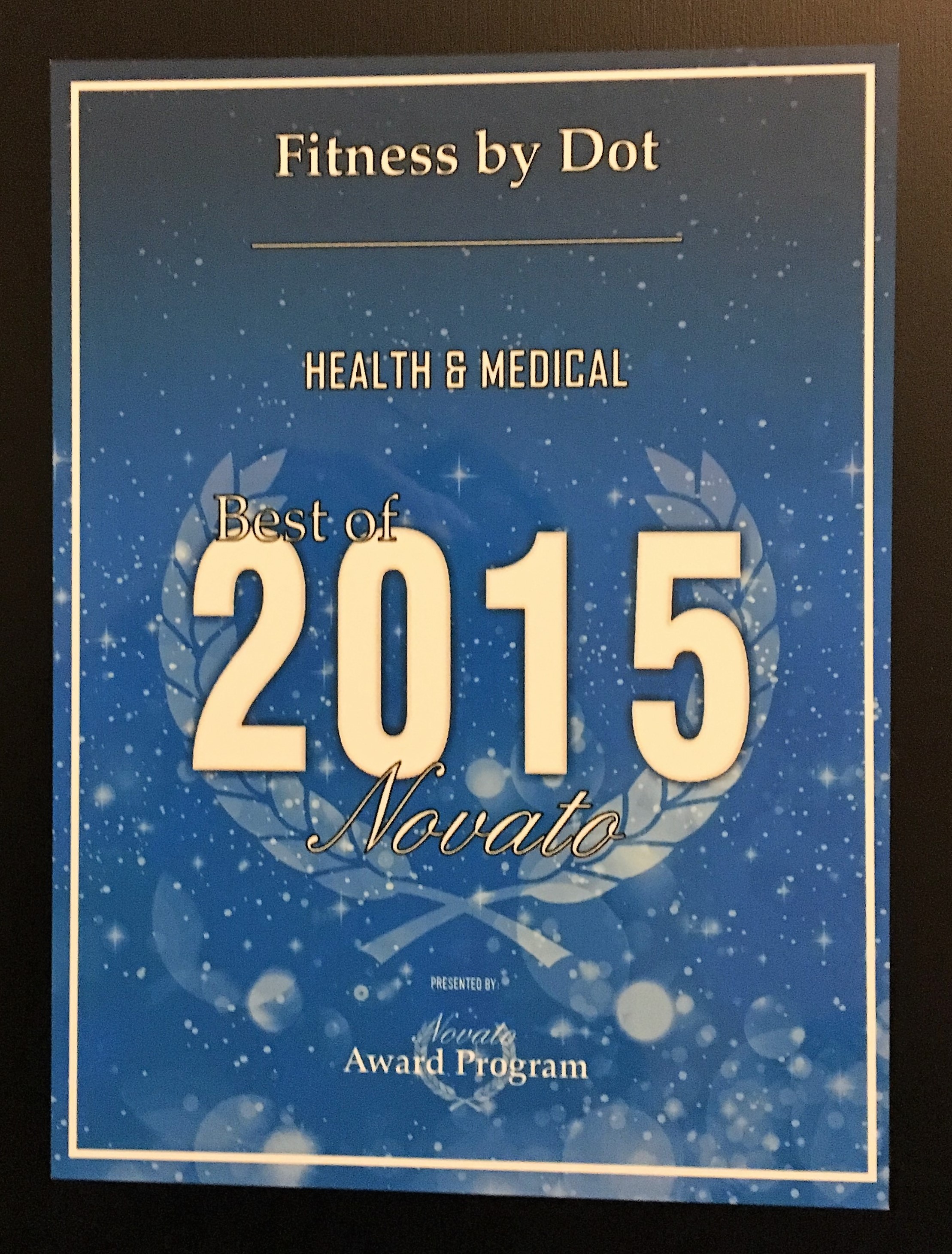 We are proud to announce that Dot Spaet was awarded the 2015  Best of Novato – Health and Medical – Award.